Chestnut-collared Longspur (Calcarius ornatus)
Number of accepted Chestnut-collared Longspur records for Louisiana = 9 as of July 2015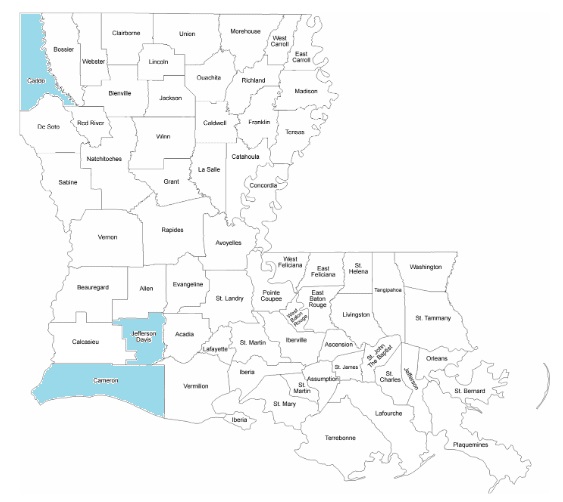 Accepted Records
One (1952-02) on 23 March 1952, Caddo: Gilliam, NE outskirts, airfield off Adger Road on Log an Plantation, SE ¼, Sec. 5, T21N, R14W; Horace Jeter (LSUMZ 18550).

One (1966-06) on 20 November 1966, Cameron: 4 mi. W Cameron; G. H. Lowery, Jr. (LSUMZ 52579).

Two (82-18) seen with Smith's Longspurs on 12 January 1982 at the Shreveport Regional Airport, Caddo Parish (Van Remsen, Steven W. Cardiff, Jim Stewart, Linda Hale, Jon Dunn).

One adult female (93-87) on 11 July 1993, Cameron: approx. 2 mi. W of old mouth Mermentau River (Rutherford Beach); Steven W. Cardiff (ph; LSUMZ 154253), Donna L. Dittmann, and Beverly Smiley (ph only) (AB 47(5):1118).

One male (95-52) in partial alternate plumage on 19-22 Mar 1995, Cameron: Rutherford Beach; Roger J. Breedlove, Joseph P. Kleiman, and Steven R. Emmons (ph); NASFN 49(3): 264, LOS News 165: 11.

One sex unknown, oiled and desiccated (1998-164) found on 25 August 1998, Gulf of Mexico: platfor m at South Marsh Island 147, 93 mi. S western tip Marsh Island, 28° 13' 40"N, 92° 00' 00"W; Brian P. Gibbons (LSUMZ 176059, photo below) and M. Josephine Babin (*).

Three, including one in non-breeding plumage (2007-065), on 10 November 2007, Caddo: sod farm on Sentell Rd., N of Shreveport; Charles E. Lyon. This becomes the seventh accepted state occurrence.

One female (2012-051) on 4 November 2012, Jefferson Davis: Aguillard Rd. N of Thornwell; Daniel F. Lane (ph).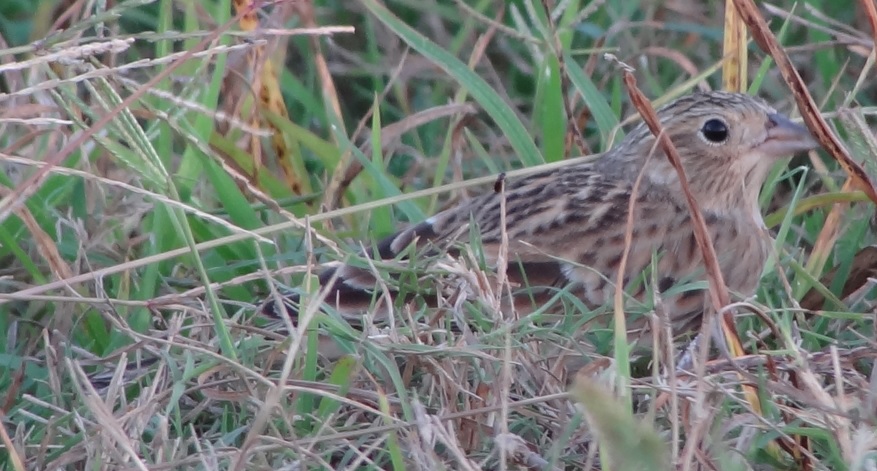 Photo by Daniel F. Lane
Two (2013-015) on 26 and 28 January 2013, Caddo: Shreveport, Shreveport Regional Airport; Jim Holmes, John Dillon, Jay Huner Devin Bosler and Justin Bosler (ph only). Reportedly found by Terry Davis.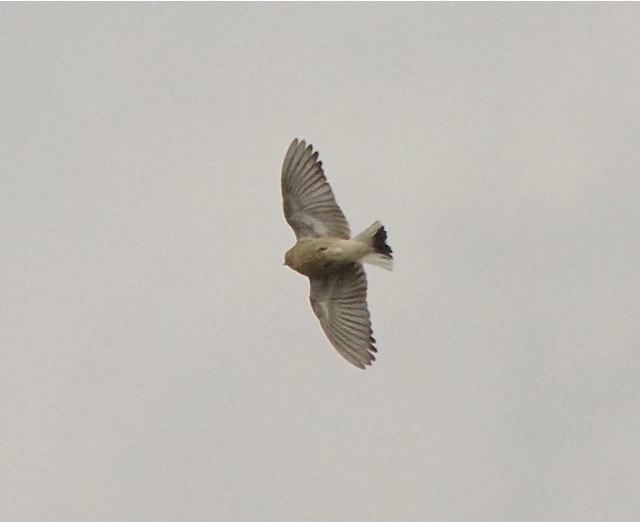 Photo by Justin Bosler
Unaccepted Records
One bird in partial breeding plumage (1988-88; formerly 90-68) on 9 Jan. 1988, Madison: Mississippi River levee, about 3 mi. S of Delta. The identification was based primarily on a "yellow face that contrasted sharply with black facial markings and red nape." The observer was not confident of the identification because of the rather brief observation (less than a minute) and had no prior experience with that species. The Committee believed that the details were not sufficient (bird not heard, tail pattern not described) to eliminate Lapland Longspur (C. lapponicus), which could show a similar head pattern by late winter.