Varied Thrush (Ixoreus naevius)
Number of accepted Varied Thrush records for Louisiana = 5 as of July 2015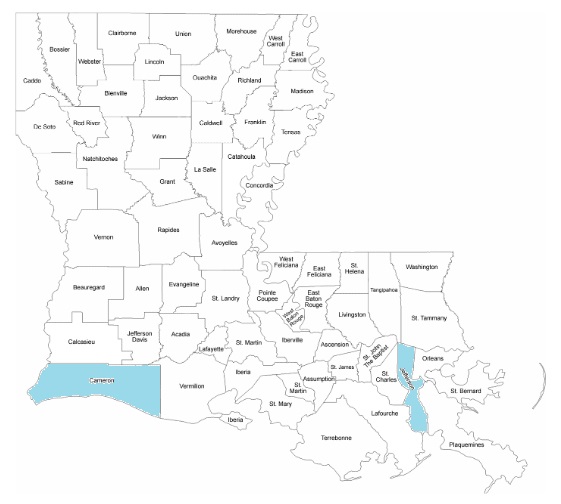 Accepted Records
One (1984-20; formerly 85-2) photographed at East Hackberry, Cameron Parish, on 16-17 December 1984 (J. V. Remsen, Jr., Patrick Sewell; Cathi Reed*, et many al.). Another long over-due first state record, this bird was seen by some 50 birders the morning after its discovery but could not be relocated on later visits.

One (1988-82; formerly 89-135) on 17-18 Dec. 1988, Cameron: Cameron, Nancy L. Newfield, John P. Sevenair, Jim Holmes, Jr., Ronald J. Stein, Al & Gwen Smalley, Marianna Tanner, Melvin Weber, David Bruce Crider (ph 18 Dec.). This bird was found on the Sabine NWR CBC. Details were not received until after the CBCs were published, and, for that reason, the observation was listed as "no details" (AB 43(4):987). Many observers saw the bird on the following day, but none submitted details. This is a classic case of every-body assuming that someone else was going to "write it up."

One male (92-36) on 5 Apr 1992, Jefferson: Grand Isle, woods behind Sureway Market; Norton Nelkin and David P. Muth; date erroneously given as "5 Mar" in AB 46(3): 436.

One female (93-30) on 24 Apr 1993, Cameron: Cameron, vacant lot behind the Cameron Courthouse; Alfred E. and Gwen B. Smalley (ph), Andrew W. Kratter, Curtis A. Marantz, Joseph P. Kleiman, and Ronald J. Stein; AB 47(3): 422.

One immature male (96-54) on 19 Oct 1996, Jefferson: Grand Isle, residential area one block W of Sureway Market; Phil Stouffer and B. Mac Myers III; NASFN 51(1): 71, LOS News 177: 9.
Unaccepted Records
One probable female (2010-119) on 27 April 2010, Jefferson: Grand Isle, TNC Grilleta Tract. This record went to a Discussion Round. Most Members believed that it was probably correctly identified but the circumstances of the observation, including only very brief views of only the dorsal side, were deemed by some Members not adequate to accept the record.