Tundra Swan, Cygnus columbianus
Number of accepted Tundra Swan records for Louisiana > 10 as of June 2017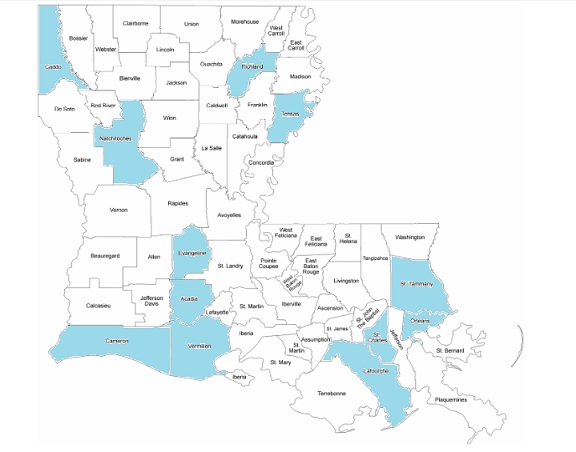 Accepted Records
One (1975-06) in Dec 1975, somewhere in southern tier of state (LSUMZ 82367).

One (1975-07) in Dec 1975, Vermilion: Pecan Island (LSUMZ 81604, partial skeleton).

One (1975-08) in Dec 1975, Vermilion: Pecan Island (LSUMZ 81605, skeleton).

One (1977-09) on 31 Dec 1977, Acadia: between Iota and Maxie; Tony McNeeley (LSUMZ 86310; J. C. Smith*, skeleton).

One female (1978-11) on 14 Jan 1978, Orleans: New Orleans, UNO campus; E. A. LeBoueuf (LSUMZ 86311; Michael J. Braun*, skeleton).

One female (1978-12) on 18 Dec 1978, Evangeline: Millers Lake; D. Coreil (LSUMZ 89618, J. C. Smith*).

One (1980-01) on 14 Dec 1980, Lafourche: Gheens; (LSUMZ 99597; John J. Morony*).

One (1984-31) on 22 Nov 1984, St. Charles: La Branche (LSUMZ 121993, Steven W. Cardiff*, partial skeleton including skull).

One (1984-27) on 23 Nov 1984, Tensas: near St. Joseph (LSUMZ 122084, Steven W. Cardiff*, fluid-preserved).

Three birds (1984-39), at least two of them fully adult, near Madisonville, St. Tammany Parish in December 1984 (MN; DK, MM, DP, et al.); these birds were probably present during November as well, and remained until at least early January 1985 (see American Birds 39:175, 1985).

Six birds (1985-3), 3 ad., 3 immatures, seven miles south of Start, Richland Parish, from 26 January to 24 February 1985 (TK;HJ,PD, et al). These birds were part of a small invasion into Louisiana during the winter of 1984-85; see Muth (1985) and Schulenberg (1986).

Up to 14, including one immature reported by locals as arriving 18 Dec, two adults present on 30 Dec, and numbers increasing to 14 (including six wearing neck collars reading K172 to K177, respectively) on 18 Jan (1989-12), from 18 Dec 1989-18 Jan 1990, Caddo: Shreveport, Cross Lake; Paul M. Dickson.

One immature male (2002-76) on 23 Nov 2002, Natchitoches: near Powhatan, 1 mi. E of Hwy. 1, 3 mi. N of Bayou Pierre; James L. Ingold (Louisiana State University at Shreveport [LSUS] Museum of Natural Sciences No. 1842); NAB 57(1):71. Accidentally shot by hunter and turned over to Paul M. Dickson, who deposited the specimen at LSUS.

One juvenile (2016-049) on 14-29 December 2016, Cameron: Cameron Prairie NWR, Pintail Loop; Michael J. Musumeche (ph), Jody Shugart (ph), Jay V. Huner (ph), Paul E. Conover (ph), Jon Wise (ph), Christine Kooi, Mary Mehaffey (ph), Robert C. Dobbs (ph), and Thomas Finney (ph only).
Reports or materials submitted after record review: Van Remsen (ph), Deanna Griggs (ph), and Paul Conover (video).
End date based on last record submitted to eBird with associated photo documentation.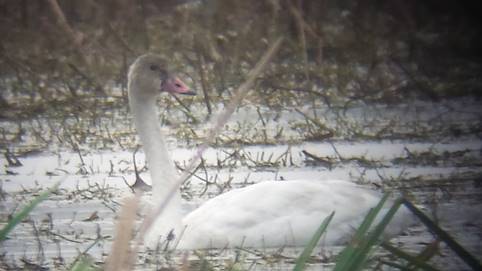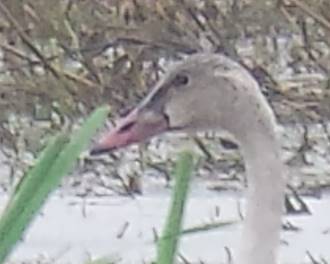 Photos by Paul E. Conover

Unaccepted Records
Eleven (90-33), including adults and immatures, 11 Dec 1989 -13 Feb 1990, St. Landry: near Eunice, Loewer Farm. The swans were observed feeding and resting, but were too distant for the observers to see details adequate for species identification. The birds were not heard. The observers reported that close-up photographs were probably taken of this group, but photographs have never been submitted to document this record. The LBRC would re-review this record if photograph(s) were received.
One immature or "dirty adult" (1995-149) on 26 Dec 1995, St. Tammany: Fontainebleau State Park, marsh at lakeshore; NASFN50(2):180. This observation involved a distant view of a bird seen only in flight. Other swan species could not be satisfactorily eliminated by the description.
Two adults (1999-041) on 16 April 1999, Jefferson: Grand Isle, Hwy. 1, about 200 yds. E of Grand Isle Bridge. There was not enough detail provided to eliminate Trumpeter or Mute Swan.
One adult (1991-079) on 26 December 1991, St. Landry: Hwy. 49 at mile marker 42. This report was recently submitted based on memory nearly 20 years after the fact, and the observer admitted being only 90% confident of the identification. Distance made it difficult to adequately eliminate a Trumpeter Swan. For those reasons, all Committee Members believed acceptance was not warranted.
One (1994-008) on 8 February 1994, St. Landry: I-49 in vicinity of Lake Recreation Area, 9.3 mi. N Hwy. 103 Exit. Most Members believed that the observer probably did see this species based on probability, but that diagnostic characters were not observed, which did not allow separation from other white swan species.
Two, one adult and one immature (2009-016) on 25 January 2009, East Carroll: S. end of Gassoway Lake near Millikin, at junction of Delta and Levee roads. All Members agreed that the birds were swans, but the brief and distant views did not allow adequate study of important field marks. Additionally, the reporter did not consider Trumpeter Swan as a possibility, two of which occurred in the state during the same season.
<![if !supportEmptyParas]><![endif]>