Smith's Longspur (Calcarius pictus)
Number of accepted Smith's Longspur records for Louisiana = 9 as of July 2015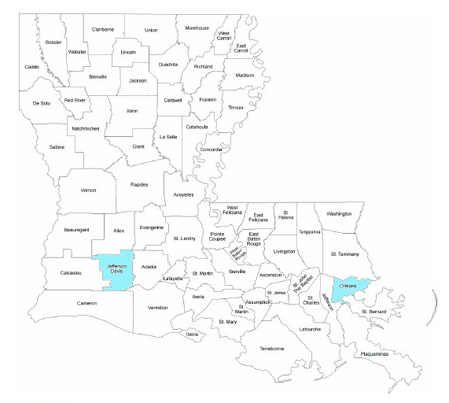 Accepted Records
One female (1952-03) on 21 December 1952, Bossier: old Shreveport Municipal Airport, sec. 18, T18N, R13W; H. H. Jeter and George H. Lowery, Jr. (LSUMZ 19234). This is the first specimen for Louisiana.

Eight (82-17) seen by many observers (Van Remsen, Jon Dunn, Steven W. Cardiff, Linda Hale, Jim Stewart, Joe Kennedy, Bruce Crider, Skip Newfield, Nancy Newfield) on 12 January 1982 at the Shreveport Regional Airport, Caddo Parish.

Two (one adult male, one adult female or immature) (82-4) seen by David Muth, Mike Braun, Dan Purrington, and Jack Reinoehl at La Place, St. John the Baptist Parish on 17 January 1982.

Five in basic plumage, with at least two adult males (1988-69; formerly 89-77) on 26 Dec. 1989, Caddo: Shreveport Regional Airport; Charles E. Lyon, Horace Jeter (8 individuals reported in AB 44(4):844).

Three or four in basic plumage (92-06) from 1-2 Feb. 1992, Caddo: Shreveport, Shreveport Municipal Airport; Roger J. Breedlove, Charles E. Lyon, and John P. Sevenair (AB 46(2):279; LOS 147).

One male (2006-18) on 29 Jan 2006, Caddo: Shreveport, Shreveport Regional Airport; Justin Bosler (ph).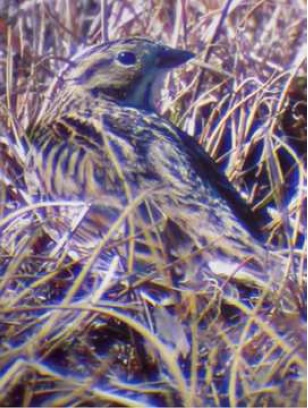 Photo by Justin Bosler
One (2008-22) on 3 February 2008, Caddo: Shreveport Regional Airport, B. Mac Myers III and Paul E. Conover (ph only).


Photo by Paul E. Conover
As many as ten, including three or more males, and 34, including 8-10 males (2011-142) respectively on 18 December 2011 and 11 February 2012, Caddo: Shreveport, Shreveport Municipal Airport; Terry Davis (ph) and Larry Raymond (ph only on 11 February 2012).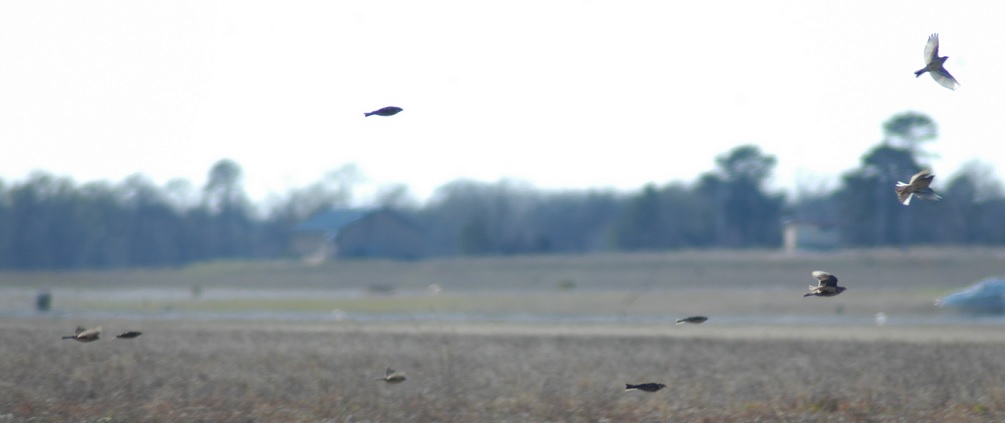 Photo by Larry Raymond
Fourteen in non-breeding plumage (2013-064) on 26 January 2013; Caddo: Shreveport, Shreveport Municipal Airport; James Holmes, Jr. and Jay V. Huner. Trip in association with LOS Winter Meeting.
Unaccepted Records
Several, including one male (1985-60; formerly 89-56 and erroneously cited as 86-59 when renumbered in Tenth Report of the LBRC) on 16 Nov. 1985, Calcasieu: Gum Cove Road at Southern Traditions hunting camp. The description and behavior (most notably that they were observed perched in small trees) of these birds were more suggestive of Vesper Sparrows; the observer had no prior experience with Smith's Longspur. Additionally, the tail pattern was incorrect for Smith's Longspur, and the observers were not able to see white on the "shoulder" (lesser upper wing coverts) of any of the birds, despite "good views of this area."

Eight (1989-07) on 28 Dec 1989, Caddo: Shreveport Regional Airport. Even though these birds were at "the" traditional wintering site for this species in Louisiana, and were flushed from preferred Aristida grass habitat, all but one member believed that the description did not adequately exclude other longspur species.

Ten, most in basic plumage, one showing some alternate plumage (2001-21), on 2 Jan 2001, St. Charles: Bonnet Carré Spillway. Although some members believed that the identification may well have been correct, the Committee agreed that the circumstances, duration of observation, and details of the report did not warrant acceptance.