Manx Shearwater, Puffinus puffinus
Number of accepted Manx Shearwater records for Louisiana = 1 as of June 2015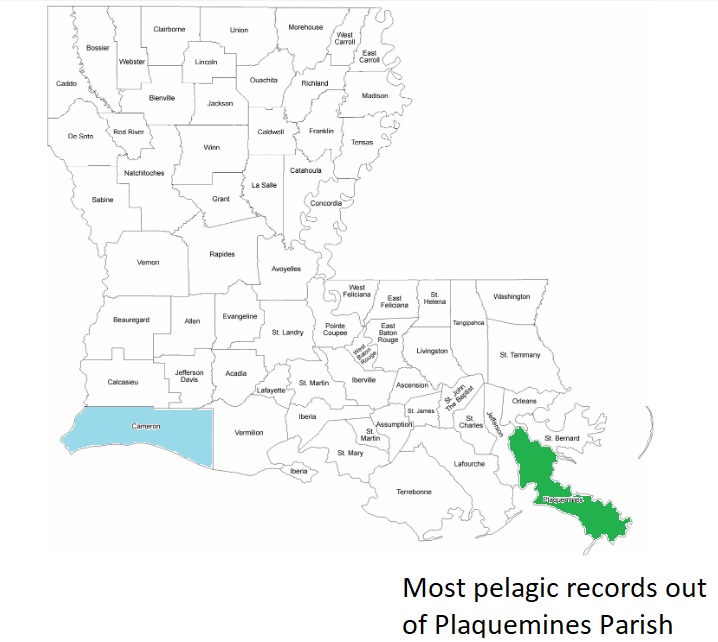 Accepted Records
One male (99-119) on 11 Mar 1999, Gulf of Mexico: approx. 52 mi. SSW of Southwest Pass Mississippi River; Steven W. Cardiff and Donna L. Dittmann (LSUMZ 169393; DLD). This represents a first state record. This record was included in NAB 53(3): 288 as one of "two Audubon's Shearwaters" reported on this date; the second individual is a sight record. Both were initially identified as Audubon's, and the specimen was accepted as an Audubon's Shearwater at the LBRC Annual Meeting on 25 Sep 1999. Eventually, during further curation of the specimen, the misidentification became apparent to Cardiff, and the record was re-circulated and accepted as a Manx Shearwater. The identity of the second bird should be considered ambiguous.
Unaccepted Records
One (1998-136) on 12 Sep 1998, Gulf of Mexico: 93 mi. S of W. tip Marsh Island, South Marsh Island 147A oil platform, 28°13'40²N, 92°00'00²W. The observer probably saw a "small black-and-white" shearwater, but the details did not eliminate Audubon's Shearwater.
One (2000-035) on 13 May 2000, Gulf of Mexico: 97 mi. S New Orleans, South Pass 89 B oil platform, N 28.68044o,W 89.38578o. This report went to Discussion and received a mixed vote, with four Members ultimately not in favor of acceptance based on concerns that the distance, brevity of the observation, and reported details did not support identification of this potential second state occurrence.
<![if !supportEmptyParas]><![endif]>