Cassin's Kingbird, Tyrannus vociferans
Number of accepted Cassin's Kingbird records for Louisiana = 2 as of June 2015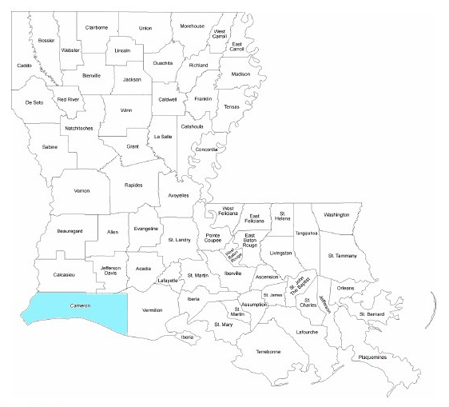 Accepted Records
One female (1964-03) on 7 Nov 1964, Cameron: 4.6 mi. E of Holly Beach; R. Andrews (LSUMZ 33856; George H. Lowery, Jr.*); AFN19(1):47.
This was the FIRST record for Louisiana.

One adult female (91-42) on 27 Oct. 1991, Cameron: approx. 5 mi. E of Cameron; Andrew W. Kratter (LSUMZ 154280) and J. V. Remsen (AB 46(1):106; LOS 145).
This is the second record for Louisiana.
Unaccepted Records
One (2009-108) on 18 November 2009, St. Mary: Cypremort Point, Ewing Cemetery. A couple of the photographs submitted superficially suggested this species, whereas others clearly supported identification as a Western Kingbird.

<![if !supportEmptyParas]><![endif]>