Canada Goose* (Branta canadensis)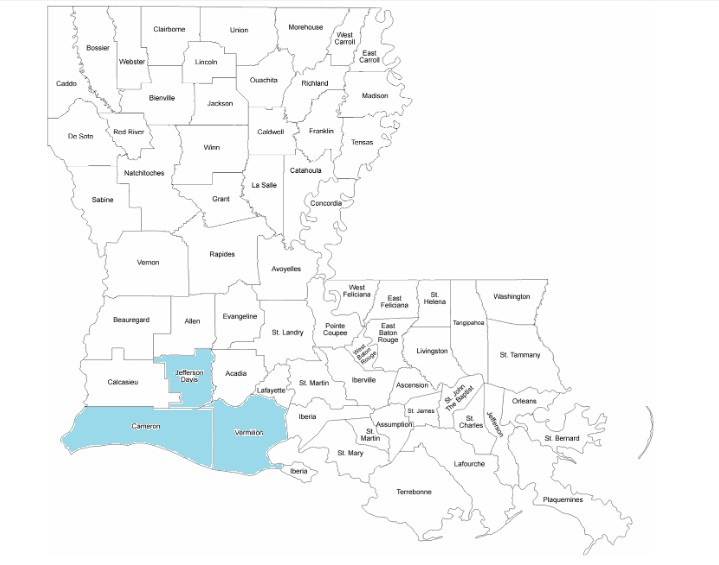 * Canada Goose was a regular and common winter resident in Louisiana until the 1960s
when migrant flocks shifted their winter range in response to increasing habitat north of Louisiana.
Canada Goose was placed on the LBRC Review List in 2009 in part to differentiate between wild migrant
individuals and members of resident feral flocks of "Giant" Canada Goose.
Additionally, the split of "Canada Goose" into two species, Canada Goose and Cackling Goose, has created
identification problems.

For a more thorough discussion of this issue, please see the 2009 LBRC Newsletter.


Accepted Records
One (2009-103) on 6 November 2009, Jefferson Davis: Thornwell, 1 mi. NW intersection Hwys. 99 and 14; Donna L. Dittmann (ph on p. 3) and Steven W. Cardiff.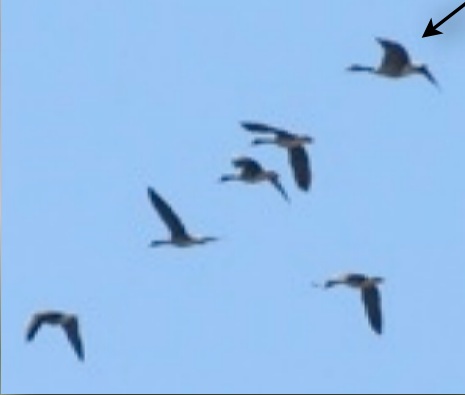 photo by Donna L. Dittmann

One (2010-07) on 6 February 2010, Vermilion: approximately 1.2 mi. NNE of Wright; Paul E. Conover (ph) and Dave Patton (ph only).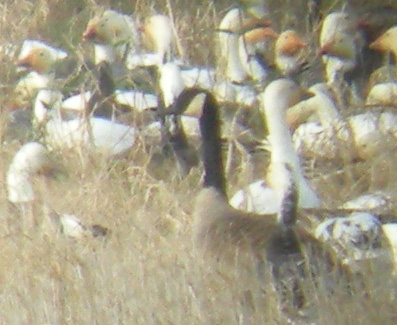 Photo by Dave Patton (3)

One (2016-002) on 16 December 2016, Cameron: Lake Arthur, Lacassane Lodge, 2500 Old Stripe Rd., Illinois Plantation, approximately 5 mi. SSW Thornwell off Goose Island Rd.; Phillip A. Wallace (ph). This record is further designated 'origin hypothetical.'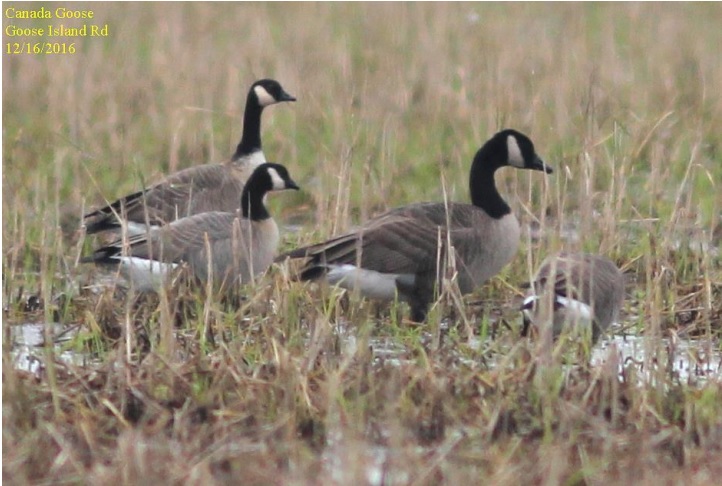 Unaccepted Records
Two (2010-74) on 20 December 2010 and 7 January 2011, Jefferson Davis: N side Hwy. 14, approximately 3.5 mi. WSW of city of Lake Arthur, and about 1.3 mi. N of the lake (ph). There are two issues involved with a Canada Goose record. First, identification. If all agree that identification as a Canada Goose is correct, then origin must exclude free-flying feral Canada Goose. There is a feral population inhabiting the nearby Lake Arthur area, but in this case a majority of Members did not believe that the descriptive details and supporting photographic evidence excluded relatively large individual Cackling Geese (B. hutchinsii).

One (2013-20) on 10 February 2013, Cameron: 1 mi. N of Hackberry. Most Members believed that this report likely involved a feral Canada Goose (perhaps derived from the Rockefeller Refuge released/established birds) rather than a wild individual.

Two (2013-087) on 14 December 2013, Jefferson Davis: Wild Rd. Description and photographs did not exclude Cackling Goose, which is the "default" wild Canada-type goose species in SW Louisiana. In addition, confirmation as a "large" Canada Goose is a necessary starting point to debate wild versus feral status.

Two (2015-023) on 29 March 2015, Webster: Hwy. 70/80 between Minden and Dixie Inn. Although the observer reported that there were photos, none were ever submitted. Therefore, Members were unable to confirm identification, which would be necessary to then evaluate issues of origin.

Two (2014-084) on 31 March 2014, St. Mary: ¼ mi. N Intracoastal Canal Bridge (ph). All Members agreed that the birds were correctly identified as a large form of Canada Goose, but the location, circumstances (apparent pair), and late spring date most likely indicated feral origin.

Two (2010-139) on 19 March 2010, Cameron: marsh W Hwy. 27 near Hackberry (ph). The date of occurrence is generally outside the pattern of known winter visitors. That, combined with the locality from an area where feral Rockefeller Refuge geese have been nesting for years prompted all Members to reject origin.